You've probably heard of the 80/20 rule. That's where 80% of a business' revenue comes from 20% of its customers.
That 20% is a customer segment. And those customers need special attention.
Golf operations have customer segments, too. Most head golf professionals have a mix of customers (members). Some spend a lot of money on lessons and equipment. Others spend little or no money.
It's important to break your membership into customer segments. You want to tailor programs and communications for each segment. You also want to give each segment the appropriate attention.
Your "Customer Segments"
I've created a model based upon a hypothetical club: The Fictional Golf and Country Club (FGCC) with 500 golfing members. I divided the golfers into five segments:
Heavy Hitters –Play at least three times a week, take numerous lessons, and spend a lot in the golf shop.
Enthusiasts – Play at least once a week, take some lessons and clinics, and spend a bit in the pro shop.
Occasionals – Play at least twice a month, take a couple of clinics a season, and spend a small amount in the pro shop.
Low Spenders – Some may play a lot but this group spends relatively little money on lessons/clinics and in the golf shop.
Juniors – Play a lot during the season and take lessons and clinics. Parents are willing to fund improving their children's golf games
Don't take this too literally. The segments and numbers are for illustration purposes only. You can create your own assumptions.
What does matter is the logic behind the assumptions. I've created an Excel sheet (click here) you can use to build your own segmentation model.
Who Are Your Best Customers?
Here is a snapshot of FGCC's customer segments.
For instance, the Heavy Hitters represent 10% (50 golfers) of the golfing membership. Yet, they represent 28% of the golf operations' revenue.
On the other hand, Low Spenders represent 30% of the golfers but only 13% of the revenue.
Why is this chart important? First, it tells you who your best customers are. Second, it tells you where your risks and opportunities are.
The risk is that you'll lose Heavy Hitters. The opportunity is that you can move golfers up the food chain. Enthusiasts become Heavy Hitters, Occasionals become Enthusiasts etc.
The other point is that you couldn't even compile this chart if you didn't have detailed data about each member: Number of lessons and clinics taken and amount spent in the golf shop. That requires a tracking system.
If you used QuickBooks for your invoicing, you'd already have the necessary data for a segmentation model.
What Differentiates Your Customers?
What differentiates a Heavy Hitter from an Enthusiast? Heavy Hitters are willing to invest more money in their games.
Here is the data per golfer for each segment. For instance, a typical Heavy Hitter during a six month season will take 12 lessons, visit the range 24 times, and spend $1,500 in the golf shop.
Now, let's look at the revenue each segment generates (see next chart). Here's how the math works for Heavy Hitter lessons, as an example.
Golf –  Total – $66,000
50 Golfers x 12 lessons each = 600 lessons
600 Lessons x $100 Lesson Fee = $60,000
50 Golfers x 24 range visits each = 1,200 visits
1,200 Visitis x $5.00/Visit = $6,000
Shop – 50 Golfers x $1,500 each = $75,000
What Are Your Customers Worth?
The two charts below show the relative worth of each segment. In total dollars, Enthusiasts are the most valuable segment. They spend $195,000 (vs $141,000 for Heavy Hitters)
However, on a per golfer basis, a Heavy Hitter is worth almost twice an Enthusiast ($2,820 vs $1,560)
The Next Step
Once you've built your segmentation model, it's time to take action. You need to build programs for each segment
That's the subject of the next Golf Pro Advisor.
I am happy to review the segmentation model for up to 30 minutes on the phone with any golf professional at no charge. If you're interested, please email me at paul@hermancpa.com.  
In the January issue of the Golf Pro Advisor (Are You Ready for the 2017 Season?), I discussed the importance of setting both "performance" goals and overall financial goals.
A performance goal, for instance, would be the number of lessons you want to generate this year. That in turn drives your overall lesson revenue (financial goal).
In this issue, I provide an Excel model that will help you forecast your revenue with performance targets. Here is a link to the model.
To achieve your goals, you must have very specific performance targets such as "x" number of lessons per month.
How the Model Works
As an illustration, the model uses a hypothetical example –  the Fictional Golf and Country Club (FGCC) with a six month golf season. You, of course, should input the numbers that apply to your club.
FGCC has 500 member families. There are 1500 potential golfers (husbands, wives, and juniors). But there are only 500 active golfers.
The model covers four "revenue streams":
Lessons
Clinics
Driving Range
Tournaments
Golf shop revenue is generally a big part of a head pro's income. But that is a more complicated model. I plan to address the golf shop model in a future issue of the Golf Pro Advisor.
This model assumes that a certain percentage of Active Golfers will take lessons and clinics, spend time on the range, and play in tournaments. Key "performance drivers" are:
Active Golfers – Number of active golfers
Participation –  % of active golfers taking lessons, participating in clinics etc. (Participating members)
Frequency – Number of lessons, clinics etc per participating member per month
Fee – Average lesson fee, average clinic fee etc.
Here are FGCC's performance drivers, based on 500 active golfers:
The Excel model has two tabs: "Targets" and "Summary". The "Targets" tab has grids for each of the four revenue streams (Lessons, Clinics, Tournaments, Range).
The "Summary" tab shows a summary of the performance drivers (see grid above) and a revenue summary (see "Set Your Targets" section below)
Make assumptions about your club's performance drivers (Active golfers, Participation, Frequency, and Fee) and then set performance targets for each area.
Input that your performance drivers into the appropriate grid in the "Targets" tab and the model will generate monthly and seasonal performance goals as well as monthly and seasonal revenue.
The summary for all four revenue streams will appear in the Summary tab.
An Example
Let's look at lesson revenue as an example. The other three revenue streams. (clinics, range, tournaments) work the same way.
The model assumes that 25% of active golfers take an average of two lessons a month during a six-month season. That's a total of 250 lessons a month. Here are the calculations:
500 active golfers x 25% = 125 Participating Golfers
125 Participating Golfers x 2 lessons/month = 250 lessons a month
250 lessons/month x $100 a lesson= $25,000 a month x 6 months = $150,000
Set Your Targets
Here is an overview of the annual revenue generated for FGCC. (See "Summary" tab in the Excel Model)
The key point is to set monthly goals for your golf operation. A lesson target of $150,000 is very vague. How are you going to achieve it?
A target of 250 lessons a month (10 lessons a day) is very specific.You can easily track it. Set monthly performance targets for each of your revenue streams.
If you have good records, you can set targets based on history. If not, make assumptions and then tweak them as you get more experience tracking activity.
Also, your targets should be ambitious but realistic.
Is it realistic to assume that on average each of your active golfers will take three lessons a season?
1500 lessons divided by 500 Active Golfers = 3 lessons per golfer
Is it realistic to assume that that on average that each of your active golfers will spend $500 a season to improve his/her game?
$256,000 (Total Season Revenue) divided by 500 Active Golfers = $500 per golfer
Achieving Your Goals
Now comes the hard part. How do you achieve your goals?
If your goal is 250 lessons a month, does that mean:
250 members each take one lesson?
50 members each take five lessons?
500 members take one lesson every two months?
There is a big difference.
If it's 250 members, the challenge is to get each member to take more lessons. If it's 50 members, the challenge is to get more members to take lessons.
In the next issue of the Golf Pro Advisor, I will explore this further.
I am happy to discuss the model at no charge. Interested golf pros should feel free to email me at paul@hermancpa.com to schedule a 30-minute consultation. 
It's January. You are probably busy planning for the upcoming season.
Your highest priority may be completing the items on your checklist:
Hiring assistant pros and shop assistants
Scheduling vendors to visit at the PGA show later this month.
Purchasing equipment and merchandise
Setting fees for lessons, tournaments, driving range, and bag storage
Developing promotional programs
Scheduling tournaments and other events
But have you considered the most important item of all: determining your goals for this year?
In an ideal world, your goals would drive your checklist. You'd define your goals first and then tailor your checklist accordingly.
That may not be practical this year. You've got too much to do. You've got to complete your checklist first. But you still can do some planning before the season starts.
Break down your 2017 plan into these categories:
Financial goals
Performance goals
Activities and programs (Your checklist)
Tracking member activity – Lessons, Clinics, Tournaments, Purchases
Financial Goals
You may not have closed your books for 2016 yet. But you probably have a pretty good idea of how much money you made.
How much money do you want to make in 2017? Look at revenue and expenses for 2016 and, ideally, several years before that.
Analyze the trends and then set a target for your 2017 bottom line. To get to your bottom line, you need a goal for each of your major sources of revenue:
Merchandise and equipment sales
Lessons & Clinics
Tournament Fees
Range and bag fees
Performance Goals
Your financial goals are WHERE you want to go. Your Performance Goals are HOW you'll get there.
Some of your income, particularly your salary from the club, is already fixed. You can't control that.
However, you can control member-generated revenue. You can set the fees and you can project the number of lessons, tournament participants necessary to meet your revenue target.
Here's an example:
300 lessons (performance goal) x $100 a lesson (Fee – program) = $30,000 in lesson revenue (financial goal)
Your metrics will drive your revenue. Those metrics include:
Number of lessons
Number of clinic participants
Number of tournament participants
Number of members taking lessons
Frequency of lessons per member
Makeup of merchandise and equipment sales
Your Metrics Matter
Your club's software and the golf shop point of sale system may provide some or all of the data above. At the very least, it should provide totals for the sources of revenue.
Beyond that, ideally, it should provide information on each member's activities and enable you to perform analyses. For instance, if there were 300 lessons last year, how many members took lessons and how often?
Did 60 members take an average of 5 lessons each or did 150 members take an average of two lessons each? There is a big difference.
If the answer is 60 members, you want to develop programs to get more members to take lessons. If the answer is 150, you want to encourage members to take more lessons.
This information will drive your communications programs plus special efforts as playing rounds with members and providing free tips on the driving range.
Tracking Your Metrics
If your club's systems don't provide the information you need, you may have to set up a parallel system to track member activity.  For this, you'll need CRM (Customer Relationship Management) software. There are a number of inexpensive and easy-to-use CRM software programs on the market.
You'll want to know for each member how many lessons they took, what was discussed during the lesson, what merchandise they purchased, and the clinics and tournaments they participated in.
One of your shop assistants may be able to input most of the data. Your assistant pros or you will have to put in the information about the lessons.
Having all your members' info in the database will allow to track individual members' skill levels and preferences. The information about your members can also show trends that will guide your marketing, programming, and purchasing decisions.
The bottom line: To improve your bottom line you need detailed information about your members! If you don't have an effective tracking system, make that a priority for 2017.
It's that time of year again – time to negotiate your contract for next year.
You want to enter into contract discussions armed with the following:
Financial Info – Accurate information about your earnings.
Performance Metrics – Stats on the golf program (number of rounds, lessons, etc.).
Comparables – Head pro compensation at comparable clubs in your area.
Goal – A strategy for what you want to achieve.
In this newsletter, I will focus on the financials.
Why Your Financials Matter
Your club's management (Golf committee, general manager, president, treasurer) should have a clear picture of your total compensation. That includes whatever the club pays you plus income generated through your outside entity (LLC, S-Corp, etc.).
That information is essential to understanding whether you are fairly compensated both for your performance and in comparison to your peers.
Your club management may not know how much money you really make. And they may think you're doing just fine.
Your job is to educate them with facts.  But your financials must be credible.
I can't emphasize this enough. If your club management doesn't believe the numbers, you will be at a severe disadvantage.
Preparing Your Financials
Your financial statement should:
Be complete and accurate
Cover multiple years
Clearly illustrate trends
Tie to your tax returns
Provide a sufficient but not overwhelming amount of detail
If you use bookkeeping software, such as QuickBooks, you probably already have the information you need. The challenge is to put the information into a format that your club management can understand and digest.
Work with your accountant to ensure that your financials are accurate and complete. Prepare a spreadsheet that covers four to five years (if you have that much history) and all the appropriate income and expense categories.
I would recommend a one-page spreadsheet with an appropriate amount of detail (but not an eye chart with dozens of lines).
Make it easy to read. Color code the statement to highlight totals and trends.
Be sure that you can reconcile the total taxable income in each year to each year's tax return.
Client Illustration 
I recently worked with a golf pro preparing his financials for discussions with the golf committee. To preserve confidentiality, I will call my client Fred.
The bottom line is that Fred's pre-tax profit dropped 8% over the four-year period. Below is a chart that illustrates the trend.
Note something interesting here. A comparison of Fred's income from 2014 to 2015 shows an INCREASE in his pre-tax profit over the year. But the overall trend over the four-year period is DOWN.
That's a very important distinction. Trends are key as opposed to a snapshot of a short period.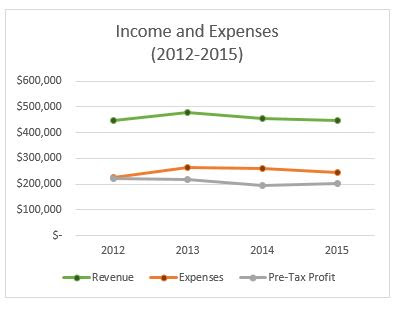 The golf committee at Fred's club was impressed with the completeness and accuracy of his financials. They have not yet finalized Fred's 2017 compensation.
But because they (a) are pleased with Fred's performance and (b) recognize that his income has declined, they are open to changing his compensation.
Financial Statement Components
Here is an overview of the components of Fred's spreadsheet.
There are two sources of revenue: "ABC Golf, Inc" (disguised name of his S-Corporation) and his club salary.
ABC Golf, Inc.
Merchandise Gross Profit – Gross profit (Revenue less cost of goods) from the golf shop.
Bag/Range/Other – Primarily driving range fees and bag storage fees.
Net Payroll – Salary payments to Fred and his assistants less lesson fee reimbursement
Other Expenses – Operating expenses for the golf program
ABC Golf, Inc. Salary – The salary Fred pays himself out of ABC's revenue
Club Salary – The salary Fred receives from the Club directly
Make Your Case with Facts
Fred got a good reception from his golf committee because he made a strong argument with his financial presentation. It's hard to dispute the facts.
As former New York Mayor Michael Bloomberg used to say "In God we trust. Everyone else brings data."
If you would like a sample spreadsheet, please email me at paul@hermancpa.com. Also, I am happy to provide any golf pro (at no cost) a 30-minute consultation on preparing the spreadsheet. Please email me to set up an appointment.
As readers of The Golf Pro Advisor know, I regularly stress the importance of increasing your value to your club. This can, in turn, increase your job security, your income, and your marketability (to other clubs).
One way to increase your value to the club is to create a vibrant, growing youth program. This offers several advantages:
Grooming a new generation of active golfers and potential members
Stimulating increased play
Generating income from program fees, lessons, clinics, coaching, and golf shop sales
Forging stronger ties with parents and increasing their loyalty to the club and to you
Attracting new members
If your club has, say, 300 members, there are probably at least 300 children between ages 5 and 17. Let's say you recruit a quarter of this group into the golf program.
That could mean real money and, perhaps more importantly, a lot of parents who support the program and whom you develop a closer relationship with.
In developing a youth program, you face two potential problems: family indifference and adult golfer resistance.
You need to convince families that golf is fun, rewarding, and relatively easy to learn. You also need to establish a family friendly culture that encourages informal play on the golf course.
Here are three junior programs recently featured in PGA magazine:
1.  Golf Leagues
Program – Mark Keating at Reserve Vineyards and Golf Club in Aloha, Oregon created teams comprised of boys and girls organized by age group. One team was for 7-13-year-olds. Another was for 14 and 15 year olds.
Mark convinced a number of other Portland area clubs to field teams. Ultimately, there were 12 teams that played not only in the summer but also through the fall.
Results – 15% increase (?) in lessonrevenue from kids and additional lessons for parents. Another benefit was the cart rentals from the parents who watched their kids play in the leagues.
2. Club Fitting Day
Program – Hugh Matthis at Tavistock Country Club in Haddonfield, New Jersey runs an annual event to fit kids for clubs and golf clothing. The event includes games to keep the kids occupied.
Hugh also promotes Club Fitting Day via the club newsletter, email blasts, and flyers.
Results – Some 75 kids participated in the event last year and sales of equipment/clothing increased by 15% over the previous year.
3. Themed Competition
Program – Andy Miller at LedgeRock Golf Club in Reading, Pennsylvania runs a Drive, Chip & Putt Championship as part of the junior golf program. Last Fall, he divided the juniors into four teams, each with players of varying ages and skill levels.
Each team had college name – Ohio State – Red; Auburn – Orange etc. This summer he will use an Olympic theme and assign each team a country name.
Results – A 3% to 5% increase in overall club revenue. This is the result of not only the program fees but of additional golf shop purchases and food purchases by parents watching their kids play.
These are only three examples. There are more in the Best Practices section on the PGA Magazine site.
It's not too late to develop fall junior programs. That may a good way to test concepts that you can roll out more formally next year.
As you develop your 2017 junior golf plan this winter, keep in mind the following:
1. Set Goals – Create revenue and participation goals for each program plus ancillary revenue from lessons and golf shop sales
2.  Measure Everything! – If you don't measure it, you can't manage it
3. Promote Effectively – Send targeted promotions directly to the families with kids as well as general information to the entire membership.
4. Keep Your Golf Committee Informed – Share your plans and program results with your golf committee. Make sure the committee recognizes the impact of the programs!
I recently had the pleasure of speaking with PGA Pro Michael Heisterkamp. Mike has been the head golf pro at Chagrin Valley Country Club in Chagrin Falls, OH for the past 22 years. He seems to have cracked the member retention code.
Mike Heisterkamp's job is to run a golf program. But his mission is to attract and retain members for his club.
Mike started with his own belief system as to what is important in doing his job well. He then looked to other pros around the country and found that the most successful pros interacted regularly with their members.
Through some study and analysis, Mike discovered that every member who has done at least one of the following three things in the past few years has stayed at the club:
Played a round with the pro
Taken at least three lessons in a year
Gone on a golf trip with the pro
Mike's System
Like all good head pros, Mike interacts with members and guests regularly: playing, meeting and greeting. But behind his casual and friendly demeanor is a system.
He tracks member activity methodically. For each member he knows: number and dates of lessons, golf shop purchases,  and number of tournaments and golf trips.
He also stays in touch with the club membership office to learn which members have resigned and who has joined the club. Then he matches that info to his activity tracking system.
Playing with the Pro
Mike runs a season-long "play-with-the-pro" tournament. He plays with many members during the course of the tournament and plays with some members multiple times.
He keeps a large scoreboard in the locker room to encourage participation and maintain enthusiasm. At the end of the season, he runs a shoot-out for the top three teams.
Lessons
Mike finds that if a member takes three or more lessons a year, that member stays with the club. He tracks the lessons that each member takes and, without being pushy, encourages certain members to take more lessons.
At the same time, Mike and his assistants regularly are on the driving range giving members free tips. This shows members that the pros care. It also encourages members to take more lessons.
Golf Trips
Mike runs a golf trip each year for about 15 members. On the even years, the trip is in the US and runs for four or five days. In the odd years, it's a 10-day international trip.
Through his network of golf professionals, Mike gets his members on some of the top courses in the US and Europe.  Sign me up!
Mike sends out an email invitation to the entire membership for each trip a year in advance. The trips are so popular that they are usually filled within a week of Mike's email.
Mike tries to avoid having the same members on the trip year after year. He aims to mix up the group by having no more than half of the previous trip's group on the next trip.
Attracting Members
Mike goes out of his way to make non-members feel welcome at the club. When a member brings a guest to play, Mike makes it his business to know when the guest is coming and his or her name so that he can greet and welcome the guest by name.
He also regularly plays with prospective members. He says that in the past few years 11 out of 12 candidates for membership who played with him subsequently joined the club.
That's a .917 batting average. Awesome!
Membership is Job One
Mike recognizes that maintaining the Club's membership is not just the Membership Committee's job. It's his job, too.
The head golf pro plays an important role in providing a great member experience. That's why members join and stay.
But Mike wouldn't be as effective as he is without a system. He has devised one that works.
It allows him to contribute in a meaningful way to his club's well-being, increase his value to the club and hopefully increase his compensation.
I am sure it also increases his attractiveness to other clubs looking to hire a new pro.  Mike's systemized approach is something all head pros should consider.
"Golf is 80% mental, 10% ability, 10% luck" – Jack Nicklaus
Mind over Body
If so much of the game is mental, as so many top touring pros contend, why do so few club pros teach the mental game? Many focus almost exclusively on the physical game: swing, stance etc.
I've been wondering about this for a while.
It started about five years ago when I was watching an amateur golf tournament. As the winner walked off the 18th green, he nodded to a man in the crowd. I'll call that man Fred.
I was curious why the golfer had done this and asked Fred about it. It turns out that Fred was the winner's "golf psychologist". Fred said he helped the golfer with his mental game.
I wasn't familiar with the term golf psychologist. But since then, I've done a lot of research and become convinced about the importance of the "mental game".
I now spend a lot of time on my mental game. I think I've lowered my handicap as a result.
According to Douglas Juola, author of "GolfNosis: Tee Time for Your Mind" " … it has been proven that concentrating on the mental side of the game can help golfers by improving their focus, concentration, consistency, and by removing distractions and negative self talk "…
He adds that almost every top professional golfer on the tour uses a golf psychologist or hypnotist.
The Opportunity
Of course, a typical club golfer will probably not hire rock star golf psychologists such as Bob Rotella or Gio Valiante (both PhD's). But that golfer could hire his or her club pro.
In an era of declining play and diminishing lesson revenue, teaching the mental game could be a win-win-win for your members, your club, and you.
It could help your members improve their games and increase their loyalty to the club. It could also mean more revenue for you.
Getting Started
Your members might be initially reluctant to hire you as their golf psychologist. They might not even know what one is.
They may understand the importance of mental fitness. But you'll need to educate them about the mental game and how it can improve their overall performance on the course.
You might start by offering a series of one hour workshops.  Topics could include:
Maintaining a positive attitude
Improving your concentration
Visualizing your swing
Playing under pressure
Monitoring your performance
You might limit attendance in any one workshop to, say, 10 members. Also, you could charge by the workshop or for the entire program.
Use your clinic fees as a benchmark. Perhaps, a single workshop would cost $50 and the entire five workshop series would cost $200.
This may, initially, not be a huge money maker for you. But it could be an effective way to introduce your members to the concept.
The Club Pro as Golf Psychologist
If a member finds the workshops useful, he or she may hire you as his/her golf psychologist.  That is the Holy Grail.
You are no longer waiting around for members to schedule a lesson. You are now a "Coach," not just a teacher.
As I pointed out in the January and February issues of The Golf Pro Advisor, there are many advantages to being a coach. These include: higher fees and an ongoing relationship with a member.
When you launch your "mental game" program," you'll need to promote both the workshops and the coaching program.
Mental Game Teaching Qualifications
If you've never taught the mental game, you may wonder whether you're qualified to do so. You probably are.
You know the mental game even if you've never taught it. Otherwise, you wouldn't be a successful golf pro.
But in order to teach the mental game, you need a formal program. You need to "preach what you practice." That means putting it on paper.
There are a variety of ways to develop your program. One is to get certified to teach the mental game.
To find out more about certification, ask your fellow head pros for recommendations. Otherwise, you can do a Google search for certification programs.
There is also plenty to read on the subject. Amazon lists 526 titles under the term "mental game of golf."
In addition, there are articles and resources galore on the Internet. A Google search under the term "Mental Game of Golf" yields 32 million results.
By combining what you already know with some research, you can develop the raw material for your program.
Then, you're on your way to creating a new line of business. It's also a new way to maximize your income and value to your club.
As the author of The Golf Pro Advisor, I follow golf industry trends closely. I do this because those trends have significant financial impact on my readers and clients.
A recent annual survey of golfers from Pellucid, a research firm focusing on golf, caught my eye. The announcement summarizing the report had an ominous title:
The 2013 National Golf Consumer Base Scorecard:
Downward Drift Accelerates
Pellucid's report noted that in 2013 there was a 5% decline in golfers from 2012. Furthermore, there were fewer rounds played. The number of golfers peaked at 30 million in 2002 and is now back to 1990 levels.
Many clubs are fighting to avoid a decline in membership. Fewer members means less revenue from initiation fees and member dues. That also means lower lesson fees, clinic fees and Golf Shop sales.
A membership decline has a direct impact on golf pros. It can mean lower compensation and fewer jobs.
Don't wait for the numbers at your club to get worse. Show your golf committee and your club's board that you are taking action to reverse the decline in play.
Here are three steps you can take:
1.       Design innovative programs to increase play.
2.       Get your golf committee on board.
3.       Use social media to connect with your members.
You want to show your club's leaders that you are part of the solution, not part of the problem. You are essential to the club's growth.
Step #1 – Design New Programs
To increase play at your course, consider programs that will attract more golfers, particularly women and juniors. You also need to show that golf is fun.
The PGA's Golf 2.0 initiative offers numerous ways for getting more members on the course more often. The "Player Development Workbook" is full of ideas for creating and executing programs. I urge you to read it carefully.
You may also need to change the culture on the course to attract younger players. Relaxing dress codes is one way to start.
Step #2 – Get Your Committee on Board
After you've done some initial research on new programs, meet with your golf chair to get his or her feedback. Then, work with your committee to develop more detailed plans.
Getting started here is a bit tricky. You need to have some fairly well-developed ideas before you approach your golf chair. But you don't want to present a complete program to him/her.
You need to involve him/her in developing the final product. You want this to be a joint effort with the chair and the committee.
The next step is convincing the club's board. The golf chair can lead the charge on this.
Step #3 – Reach out to Your Members (Effectively)
An effective communication strategy is a key element in your overall growth plan.
Don't rely exclusively on the club to promote your new programs. Of course, you should make sure the programs are prominently displayed on the club's website and mentioned in club bulletins.
But you should also run your own communications program. This could include emails to members as well as an active social media program on Facebook and elsewhere. You may even need your own website.
This approach has two benefits. You are in control of the promotion effort. Also, with electronic communication you are more likely to get the attention of the younger members.
Our Golf Pro clients often contact with questions about raffles. Accounting for raffles can be confusing and complicated. But if you handle it incorrectly, you could have problems with the IRS or with your state tax authority.
Questions Golf Pros often ask are, at the time of the raffle . . .
·         Are the raffle proceeds income?
·         Are sales taxes applicable?
The answers are No, but read on.
The raffle proceeds are similar to issuing a gift certificate and or club credit to be redeemed at a future time. Even though no money changes hands later at the time of the redemption, the merchandise sold with these credits are subject to state sales tax at that time.
Still confused? Here's an example. Assume the following:
You run a raffle and sell 500 tickets at $10 each. Your total proceeds are $5,000.
Your business entity/LLC invoices the club for the $5,000
You put that amount on the balance sheet as a liability to be transferred to income when the credits are redeemed.
In most cases raffle winners must redeem their merchandise by December 31 or the credits expire and at that time should be picked up as income.
There is no sales tax liability until the raffle credits are redeemed.
This is a summary of the accounting and tax steps:
Balance Sheet
$5,000 raffle proceeds recorded as a liability on your balance sheet.
$5,000 recorded as accounts receivable from your club. When the club pays you, the receivable is eliminated.
Income statement
The raffle proceeds are recognized as income when the raffle credits are redeemed or at year end when they expire. It may be simpler to just record all proceeds as income at the end of the year rather than record the income as individual credits are redeemed.
This can be handled by you or your accountant in one journal entry at year-end.
At the time of the redemption the merchandise sold will be recorded through the point of sales system as a sale.
Sales tax
Sales tax due is recorded as a liability on the balance sheet as the raffle credits are redeemed for merchandise; this should happen automatically when the transaction is run through the point of sales system.
Here is a more detailed description of the steps:
July 20
July 21
Your club bills members who bought raffle tickets.
You invoice your club for $5,000 which is recorded as a receivable from your club and a liability (to raffle winners) on your balance sheet.
July 22 – 31
Members redeem $4,500 in merchandise leaving $500 unredeemed.
Golf shop Point-of-sale system records transactions as merchandise sales
The appropriate sales tax liability is calculated by POS system
Point of sales system records transaction as club credit or gift certificate.
August 15
Club pays your $5,000 invoice.
Record $5,000 as payment of invoice and eliminate receivable from your club..
December 31
Any unredeemed credits, $500, are re-classed as income and reported as non-taxable income sales on the sales tax return being filed for that period.
————————————————————————-
As you can see, this is complicated. I encourage you to consult your accountant to confirm that you are handling raffles correctly.
I am happy to give any Golf Pro a complimentary 30 minute consultation on this subject or any other.
The biggest challenge that club golf pros face today is declining play. How do you make more money – or just stay even – when rounds are down and your club is not growing?
According to a 2013 survey of golfers by Pellucid, a golf research firm, the number of golfers peaked in 2002 at 30 million and is now back to 1990 levels. How can this be for the best game in the world?
Declining membership affects many clubs. Fewer members means less revenue from initiation fees and member dues.
It also means lower lesson fees, clinic fees and Golf Shop sales. And it can mean lower compensation and fewer jobs for golf pros.
In September and October, The Golf Pro Advisor will highlight ways golf pros can make more money even in this very difficult environment. In this issue, we will discuss getting more money out of your golf shop.
In October, the topic will be how to negotiate the highest possible salary.
I'll be out at Bandon Dunes for the rest of this
week. I'll be posting pictures from Oregon on
 Instagram on our account HermanCPA.
If you get a chance, please follow us!
More Merchandise for Your Members. More Money for You.
Running a golf shop can be a headache. You must purchase inventory. Then, you can be stuck with unsold merchandise at the end of the season.
You need to train and manage staff. You need adequate space to display merchandise. You need to carry enough variety to appeal to a diverse member base. You need a computer system. The list goes on.
To increase sales in your physical golf shop, you may need to add staff, expand space, and purchase more inventory. All that costs money and entails risk. What happens if you build it and they DON'T come?
There is a much less expensive and less risky way to increase sales – offer merchandise online.
The advantages to your members:
·         Broader merchandise selection
·         Greater convenience – buying anytime from anywhere
·         Lower prices than traditional retail
The advantages to you:
·         More revenue (without the inventory risk)
·         Increased member satisfaction
·         Increased member loyalty
Getting Started
Here's how you can get started. Pick a few merchants (no more than three) whose merchandise you particularly like and that have sold well in the past.
I'd suggest you start with a couple of apparel manufacturers. Then, make sure you have an arrangement with each merchant so that you can purchase individual items (versus bulk buying) from their online catalogs on behalf of your members. The merchant would then ship the item either to you or to the member.
This is different from your standard arrangement with merchants. Normally, you would purchase multiple items in advance and the merchants would ship the items to your golf shop.
You can now direct your member to the appropriate merchant's website. The member can identify the merchandise he/she wants and then email you the item number from the online catalog.
You would then place the order on behalf of the member. You buy it wholesale with your credit card and then charge the member via his/her club account.
Your arrangement with the merchant should allow you to offer a lower price to your members than they would get at "retail". That will give your members an incentive to order through you rather than directly from the merchant.
With today's sophisticated logistics, the item should arrive in less than a week.
A Personal Experience
In planning for my upcoming golfing trip to Oregon, I wanted to get the right apparel for windy cool weather. I asked the golf pro at my club what he would recommend. He suggested a sleeveless windbreaker and an underliner.
My golf pro did not have these items in the golf shop. But he ordered them for me and I received them within a week.
This was a win-win all around. I got exactly what I wanted in a reasonable amount of time. My pro made money without having to carry any inventory.
There is another advantage to this approach. My pro positioned himself as an expert giving me his advice on what to order. I will definitely seek his advice on future purchases.
Any U.S. tax advice contained in the body of this website is not intended or written to be used, and cannot be used, by the recipient for the purpose of avoiding penalties that may be imposed under the Internal Revenue Code or applicable state or local tax law provisions.